Disgraced MP Eric Illsley 'coping' in jail, says wife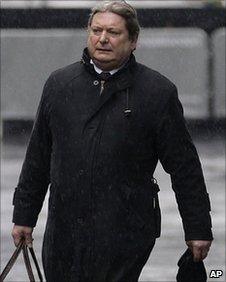 The wife of former Barnsley Central MP Eric Illsley has said her husband is "coping" in prison after being jailed for a year for expenses fraud.
Illsley was sentenced earlier this month after admitting falsely claiming £14,000 for his second home.
The 55-year-old is the second former MP to be jailed for expenses offences.
His wife Dawn said he was "keeping his head down" at HMP Wandsworth, in south London, and was "paying dearly" for what he had done.
Mrs Illsley said: "The first few phone calls were slightly emotional obviously because it was a shock but he's keeping his head down and getting on with it.
"He seems chirpier now than the first few days.
"He'll cope. He's not always been an MP.
"Eric didn't come from the playing fields of Eton, he comes from the playing fields of Kendray [in Barnsley]... so he's quite resilient, he'll handle it well."
Illsley pleaded guilty to three charges of false accounting by dishonestly claiming payments for insurance, repairs, utility bills and council tax at his second home between 2005 and 2008.
Southwark Crown Court heard he received £100 more a week on average than he was entitled to over a three-year period.
Mrs Illsley said she had no idea her husband was over-claiming.
"I never saw his claim sheets, I never asked. Eric did that and that was that," she said.
She said he was now "paying dearly" for what he had done.
"He's very sorry. As soon as he realised he wasn't entitled to the money he paid it back."