Council agrees to control failing Mexborough school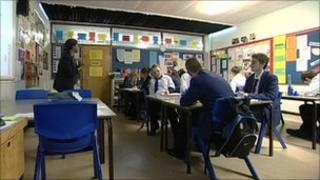 A secondary school in Doncaster is performing so badly its governors have been stripped of their powers.
Mexborough School was placed in special measures earlier this year after Ofsted found it was failing to give pupils an acceptable standard of education.
Inspectors said the "senior leadership and management of the school" had "suffered much turbulence".
The council decided to suspend governors' powers and take control of the school at a meeting earlier.
Ofsted carried out an inspection of the 1,126-pupil school in January.
'Inadequate progress'
The report stated reasons for it being placed in special measures included that "improvements needed to raise attainment and increase achievement have not happened quickly enough, nor at the magnitude needed".
It added: "Students make inadequate progress overall because teaching, the curriculum, and care, guidance and support are all inadequate".
Chris Pratt, director of children and young people's services for the council, said: "We are working closely with Mexborough in order to implement the right support that will assist the school in being removed from special measures in a reasonable period of time."
He added: "I am confident that with the right support, together with the continued commitment from staff, parents and students, the school can improve quickly.
"We look forward to supporting Mexborough School in their determination for accelerated improvement and we are committed to ensuring the students of Mexborough get the highest possible standards of education."