Unions protest as Sheffield City Council debates budget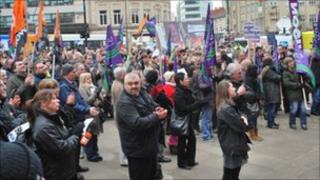 About 400 people protested in Sheffield against £80m of proposed council cuts for the city.
Five speakers and members of Unite, Unison and GMB protested outside Sheffield Town Hall as the debate was held.
Unite said the protest was peaceful and enabled people to "have their voices heard".
Sheffield City Council met to decide on cuts over the next year. It plans to make savings of £220m by 2015.
'Closing down sale'
Pat Pepper, regional officer for Unite, said the proposed cuts and job losses were a "knee-jerk reaction" to government budget restraints.
"It's [Sheffield] still recovering from the closure of the pits and the demise of the steel industry and they replaced a lot of those jobs with public sector jobs in local authority.
"It's like Britain's closing down sale because things are just being removed - the jobs, the services - everything is reduced and yet the individual is having to pay more and more out.
"It's a very unfair balance and people are starting to realise how bad that is."
The council, which employs about 15,000 people, said it expected 270 jobs would be lost next year, although child protection and adult social care services are to be protected from the cuts.
More than 400 jobs have already been cut this year at the council as a result of voluntary redundancies or unfilled vacancies.