Sheffield Sevenstone plan revived by £10m council loan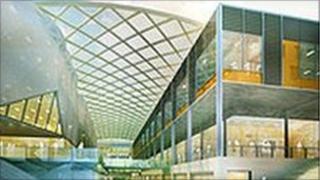 Sheffield City Council is to buy £10m worth of city centre property in a bid to kick-start a major retail project which stalled during the recession.
The council plans to take out a loan to part-fund the compulsory purchase of all the empty shops and land needed to build the £600m Sevenstone scheme.
Council chief executive John Mothersole told BBC News that developer Hammerson would contribute at least another £10m.
Hammerson put the development on hold in 2008 due to the economic slump.
It suffered a further blow in June 2010 when the government said it was cutting £12m of public funds for the project.
Assuming the council's cabinet sanctions the £10m loan at a meeting on 23 March, construction on the site is expected to start in late 2013 or early 2014.
The completed scheme will cover an area between Pinstone Street and Barker's Pool, roughly half the size of the city's Meadowhall shopping centre.
'Desperately' needed
Mr Mothersole said on Tuesday: "We are announcing today that we are going to proceed with the compulsory purchase order to buy the land to build the Sevenstone retail scheme, which is... a very, very big scheme for Sheffield.
"We are going to put £10m at risk to buy land and property.
"Even if the scheme doesn't proceed we will own land and property in the city centre, but the scheme, I am confident, will proceed in which case it will cost us nothing."
He said Hammerson had agreed to pay the interest on the council's £10m bank loan.
"I would say that Sheffield desperately needs a new retail centre.
"This is £10m for a scheme which is worth £600m so I think it's a very small risk to take for the future of Sheffield city centre.
"It will have a transformational effect on Sheffield. It is not a shopping centre with a roof and doors, this is going to be part of the city with streets and sky and good buildings."
Hammerson is expected to release a statement about the project on Wednesday, but would not comment before then.