Sheffield sham wedding party jailed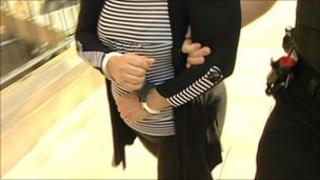 A wedding party arrested in Sheffield as part of a nationwide crackdown on sham marriages have all been jailed.
Bogus bride Renata Toracova, 37, from Slovakia, was sentenced to eight months and groom Sajid Ali, 31, from Pakistan, got 12 months at Sheffield Crown Court.
Slovak interpreters Ladislav Mizigar, 40, and Michal Gazi, 22, got nine months and Pakistani interpreter Mahtab Khan, 37, was jailed for 46 weeks.
They were arrested last September and pleaded guilty to immigration offences.
A UK Border Agency spokesman said: "The bogus bride and groom and their party were apprehended attempting a crude immigration scam involving hastily purchased wedding rings worth £33, an interpreter to help them profess their love for one another and around £2,000 in cash.
"All five were arrested just moments before they were due to tie the knot at Sheffield Town Hall on the morning of 10 September 2010, following an intelligence led operation by the UK Border Agency's specialist Immigration Crime Team."
He said officers recovered two wedding bands still in an Argos shopping bag and a torn-out page from the catalogue featuring the rings.
They also found a receipt which led them to CCTV footage of the party buying the rings at Sheffield's Meadowhall Shopping Centre just hours before they were due to marry.
Neither bride nor groom were able to communicate with one another and later admitted they could not speak the other's language.
Toracova said she had only entered into the scam because she had debts of £500.
The case was part of a wider investigation led by the UK Border Agency that saw 27 arrests last year involving individuals believed to be involved in sham marriages in South Yorkshire alone.