Thousands sign petition to save Sheffield care homes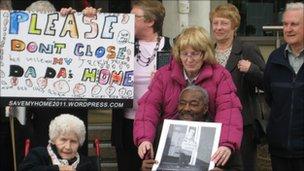 A 15,000-signature petition has been handed to Sheffield City Council to try to save the closure of two care homes for people with dementia and Alzheimer's disease.
NHS Sheffield wants to withdraw 'top-up' funding for Birch Home at Chapeltown and Woodland View at Norton.
Ron Webber, whose wife Irene is at Woodland View, said the home was "more like an extended family".
NHS Sheffield said a decision would be made after its four-month consultation.
Another campaigner John Birkes said: "My father has been here at Woodland View for two years, I have had no worries about him here."
He added: "Other homes do not have staff to deal with this level of disability".
The homes are run by an arms-length company on behalf of Liberal Democrat-run Sheffield City Council.
In a statement, NHS Sheffield said: "We are very mindful that this is a difficult time for residents, families and staff at the two care homes.
"The consultation asks for views on the arguments for and against the withdrawal of the £2.8m annual top-up funding provided by NHS Sheffield, and if funding were to be withdrawn, on the steps that should be taken to ensure the safety, health and well being of the residents.
"The £2.8m is needed because the homes are twice as expensive as other care homes providing similar care for people with similar health needs."
NHS Sheffield said the board would not make a final decision until it had seen the results of the consultation at its meeting in June.
Related Internet Links
The BBC is not responsible for the content of external sites.