Sheffield children's hospital hosts brain injury scheme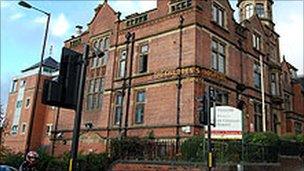 A pilot scheme to help children who have problems after suffering a brain injury has been launched in Sheffield.
The Tadworth Brain Injury Co-ordinator Service gives children with an acquired brain injury access to specialist support.
It is based at the Children's Hospital, Sheffield, which treats patients with such injuries.
An acquired brain injury is one sustained during illness or in an accident.
The injuries can cause short-term memory loss, headaches and behaviour issues.
Jenny McIntrye, who is running the scheme, said: "These children often look well, they go home from hospital but things are not right, they can have difficulties with relationships and behaviour and they can have problems when they go back to school."
The scheme will work with the children and their families to identify any needs the child might have after leaving hospital to enable them to return them to school.
It will provide access to any specialist services which the child might require.
Ms McIntyre added: "We hope at the end of the pilot to establish a specialist assessment and support team in the Sheffield areas."
The scheme, which is funded by charity The Children's Trust, will be trialled for two years.
Related Internet Links
The BBC is not responsible for the content of external sites.