Thousands of jobs for Doncaster in £18m funding boost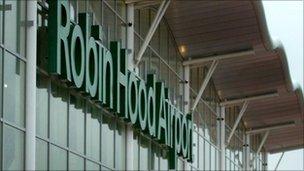 Up to 25,000 jobs could be created in South Yorkshire with £18m of government cash being ploughed into projects which will bring "major economic growth".
Doncaster Council and private sector partners have won a bid for the Gateway to the Sheffield City Region project.
It includes building a link road between Doncaster Robin Hood Airport and the M18 and the reclamation of Rossington Colliery.
Peter Dale, from the council, said it was tremendous news for the area.
The grant from the government's regional growth fund is the largest to any local authority in the country.
It will also fund plans to build a Strategic Rail Freight Interchange near junction three of the M18.
A planning application for the project, which is also being funded by private sector contributions, is expected to be submitted by the end of the year with the scheme estimated to start in summer 2012.
The Labour-controlled council said it anticipated a total of 25,000 private sector jobs would be created by 2030 as a result of the project.
They would include jobs in areas such as air freight, warehousing, house building and civil engineering.
Mr Dale, the council's director of regeneration and environment, said: "The council and its private sector partners fully support the project and will continue to work together to deliver the benefits it will bring for Doncaster and the whole region."
Nigel Brewster, Doncaster Chamber president, said the development of the new link road - the Finningley and Rossington Regeneration Route Scheme - would have a "transformative effect" on the whole region.
It is expected the road would make access much easier for passengers and freight companies.
Mr Brewster said: "We must now capitalise on this excellent news by encouraging more local businesses to trade internationally and also by encouraging new investors to locate on the airport business park and other key sites within the city region that can equally take advantage of the airport."
Related Internet Links
The BBC is not responsible for the content of external sites.