Traders' fears as Mexborough Market rents quadruple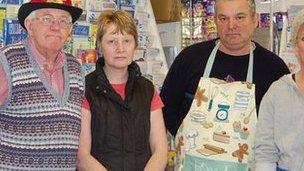 Stallholders say they could be forced to close down after Doncaster Council announced Mexborough Market rents are to quadruple.
The council said the indoor market stall rents had not increased in more than 15 years and were "currently unrealistically low".
The minimum rent will rise from £15.72 to £78.60 a week over three years.
Traders said they could not afford the increase due to a decline in visitor numbers.
Joan Beck, the council's director of adults and communities, said the authority could no longer afford to subside traders, while making budget cuts.
She added: "We are sympathetic towards traders' concerns and appreciate that this is a large rent increase, but we are confident that they will see many benefits."
The market has 40 stalls in a heated and lit building. Each stall carries a rental price based on its size and position.
Ernest Strawbridge, chairman of Mexborough Indoor Market Traders, said: "We appreciate that they have to go up but these figures aren't affordable.
"No-one can afford up to £300 a week."
Hattie Norman, who runs a card stall, said: "I came to the market 10 months ago and invested £15,000 to £20,000 on set-up costs.
"Unless something drastic happens I'll have to leave.
"Many stallholders are worried the rent hikes will end up causing the market to close."
The council, which is led by English Democrat elected mayor Peter Davies, said since raising rents at Doncaster Markets in 2009 more traders had taken up stalls and money had been re-invested in raising the profile of the market.
Related Internet Links
The BBC is not responsible for the content of external sites.