Sheffield family-of-four have gastric bypass surgery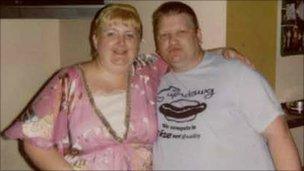 A couple and their two daughters from Sheffield have lost a combined weight of 44 stone (279kg) after they all underwent gastric bypass surgery.
Craig and Denise Watson and daughters Rebecca, 24, and Rachael, 21, all had the surgery on the NHS within a six-month period.
The decision came after the family spoke to their local GP.
Denise Watson, 45, said she had put on a stone-and-a-half in order to qualify for the operation.
The family, from Parsons Cross, said they had previously tried different ways to lose weight including joining a gym and speaking with health professionals, before seeking help from their doctor.
Mrs Watson said she had started putting on weight after giving birth to her first daughter and had been unable to lose it.
She said after her weight had escalated to 19.5 stone (123kg) in 2009 she decided to take action to lose it.
"I went to the doctors and I was told that I wasn't heavy enough [to be considered for gastric surgery].
"I deliberately put a stone-and-a-half on to be able to be considered for the operation."
Mr Watson was told by a doctor he could be considered for surgery because of his health issues, which included high blood pressure and arthritis.
The family all had keyhole surgery, which involved making their stomachs smaller, shortening the length of the small intestine that food passes through.
After the operation, Mr Watson's weight dropped from 29 stone (184kg) to just over 20st.
His waist size reduced from 58in (147cm) to 40in (101cm), while his wife dropped eight dress sizes to a size 16.
His wife of 26 years saw her weight drop by eight stone (51kg).
The couple's daughters have also both dropped from a size 32 to 14 in dress sizes, with Rebecca shedding 14 stone (89kg) and Rachael losing 12 stone (76kg) since January 2010.
Mrs Watson said their eating habits had changed.
"We've gone from having a full plate of food through to eating our meals from a small side plate," she said.
"I feel disgust when I look at the old pictures of how we looked."
The family continue to lose weight due to the permanent gastric bypass surgery they had more than a year ago.
But David Stout, director of the Primary Care Trust Network, said that although surgery was successful, prevention was better than cure.
"While surgery is undoubtedly one of the treatments we can offer, it's very much the treatment of last resort.
"So what we would be looking to, in primary care trusts who are the organisations who have to plan and fund care in the NHS, is looking at the balance between how much we spend on lifestyle changes - supporting people to diet and to exercise to avoid obesity in the first place - and drug treatments before we invest in surgery."
Related Internet Links
The BBC is not responsible for the content of external sites.