Sheffield nursing home admits fault over woman's death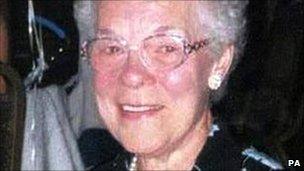 A nursing home has admitted it was at fault after a woman died when she was left to suffer with pressure sores.
Doreen Betts, 78, died after contracting sepsis, an infection caused by the pressure sores on her feet, at Kersal Mount Nursing Home in Sheffield.
Three months before she died her GP recommended her nursing home arrange for a sores specialist to visit her.
Law firm Irwin Mitchell said the home did not refer her and Mrs Betts died three months later, in May 2009.
Her sores had worsened until the infection became so severe that it reached the bone.
By the time Mrs Betts was referred to hospital, she was seriously ill with dehydration and renal failure.
She died in May 2009, three months after her GP first recommended she was referred to a specialist.
At her inquest, consulting pathologist Nicholas Tiffin found that, on balance, Mrs Betts would not have died had she not developed the infected pressure sores, Irwin Mitchell said.
The care home has admitted it was at fault and agreed a settlement with the family, the law firm said.
Mrs Betts' son, Stephen, said: "The fact that my mother's wounds healed in hospital really shows how poor the level of care was that my mother received at Kersal Mount.
"We were distraught to find that the home had ignored the recommendation to refer her to see a specialist.
"This is not about the settlement. We just wanted to ensure others do not suffer as my mother did.
"Nothing can bring her back, nor can it alleviate any of the horrendous pain and discomfort she went through in those final weeks."
Sarah Rowland, a medical law specialist at Irwin Mitchell, said: "Mrs Betts was clearly a victim of neglect.
"Had the nursing home acted with the proper level of care and attention, Mrs Betts would not have died in such a painful manner.
"Any level of neglect is unacceptable but what Mrs Betts went through was particularly horrific."
The nursing home has not been available for comment.
Related Internet Links
The BBC is not responsible for the content of external sites.