Doncaster Prison 'must increase activities'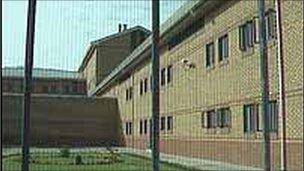 Doncaster Prison must do more to increase the amount of work, education and training available to inmates, according to inspectors.
A report following an unannounced inspection in November found the prison was secure and well-run, but vulnerable prisoners were locked up for too long.
Chief prisons inspector Nick Harwick said only half of inmates had access to full-time activities.
The prison, run by private company Serco, said activities will increase.
The prison holds just over 1,000 remand and sentenced young and adult male prisoners and processes 2,000 new arrivals each month, with many prisoners doubled up in cells designed for one, the report found.
The zero tolerance approach to drugs and violence was praised by inspectors.
Work to help prisoners maintain contact with children and families was described as "the best this inspectorate has seen".
Mr Hardwick said: "Doncaster Prison was a challenging prison to run, but the prison rose to that challenge well.
"However, the prison needed to improve the regime for vulnerable prisoners, and provide more activity places for all.
"There wasn't enough education, training or work available.
"Prison capacity is not simply a matter of how many prisoners can be crammed into the cells - it is also a matter of whether the prison has the resources and space to do anything useful with them."
From October the prison will be run on a "payment by results basis", meaning Serco will only get its full payment from the government if it reduces reoffending rates by 5%.
Related Internet Links
The BBC is not responsible for the content of external sites.