Rotherham family's hope over rare growth syndrome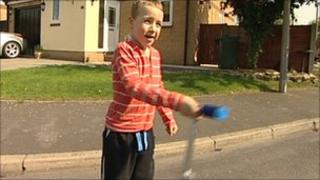 The family of a youngster, who has a rare genetic condition that could see him grow to more than 7ft tall, hope experts in America can offer help.
Jack Ives, from Rotherham, South Yorkshire, has Beckwith-Wiedermann syndrome and is already more than 4ft tall aged four-years-old.
The youngster has distorted growth patterns such as different-sized limbs.
Now his parents want specialists in America to assess how his quality of life could be improved in the future.
His parents said medical staff told them there were only 64 other cases in the UK.
Jack Ives is more than 4ft 2in (127cms) high and as tall as many children twice his age although he is just a month short of his fifth birthday.
The syndrome means he grows a lot faster than children of a similar age.
Growth anomalies
His mother, Hayley Ives said the condition meant Jack has growth anomalies that are quite rare.
She said: "The right side of his face is bigger than the left side and the left side of his body is bigger than the right side and that also affects internal organs.
"He has one leg longer than the other by roughly 3.5cms (1.3ins)."
Jack was born six weeks premature weighing 7lbs 3ozs but spent most of his first year of life in the intensive care unit at Sheffield Children's Hospital.
Hayley Ives added: "He was born with a very large tongue which blocked his airway and as a result had to have a tube fitted into his throat to help him breathe."
The youngster has to wear a special shoe that has a wedge fitted to balance the length of his legs.
His parents said doctors had told them Jack could potentially grow to a height of 7ft 5in by adulthood.
His father Darren Ives said Jack had a number of difficulties to deal with.
He said: "He tries his best, he really does, and the leg length difference hurts his hips."
The family are hoping to raise £2,500 to fly Jack to America where specialists dealing with the condition may see ways of improving his quality of life.