Tramlines free music festival to return to Sheffield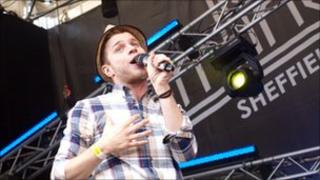 A free music festival is set to return to Sheffield in July for the third year.
The Tramlines festival attracted 125,000 people to the centre of Sheffield in 2010.
This year's line-up will include pop-punk band Ash and Sheffield band The Crookes.
James O'Hara, one of the festival organisers, said: "Our aim is to supply as much variety of music as we possibly can across the city."
The festival will take place across 70 venues in the city, including four outdoor venues, with the main stage on Devonshire Green.
This year's Tramlines will be organised around eight musical genres - pop, rock, indie, new music, world, folk, blues and dance.
Mr O'Hara said: "I think the variety of music will appeal to all age groups and all different types of people."
Other acts signed up to play on the main stage include Frankie & the Heartstrings, Dry the River and The Everly Pregnant Brothers.
The festival is taking place between 22 July and 24 July.