South Yorkshire Fire Service: arson costs county £87m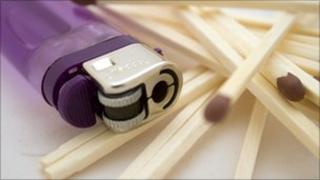 Arson attacks in South Yorkshire have cost the county's fire service an estimated £87m over the past five years, fire officials have revealed.
More than 32,000 small fires were deliberately started over the period, the fire service said.
About half of the total were rubbish or bin fires, it added.
The service's head of community safety, Steve Makepeace, said: "Anti-social behaviour fires are a massive, costly problem for the whole of the county."
South Yorkshire Fire Service has renewed a continuing campaign to engage with young people individually and through schools in a bid to reduce the number of deliberate fires.
It has also advised residents to reduce their own arson risk by taking bins away from the kerbside as soon as possible after collection and storing other rubbish away from buildings.