Plans to raise Rotherham United stadium 'recommended'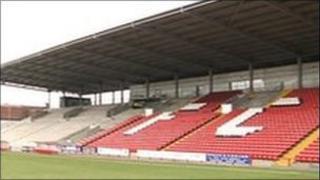 Plans to raise the site of Rotherham United's new football stadium by more than 2m (6.5ft) to protect it from flooding have been recommended.
The site of the new 12,000-seater venue on the former Guest and Chrimes foundry needs to be raised as it is in a "medium risk" flood zone.
Raising the land will involve importing about 54,000 cubic metres of material from sites including Maltby Colliery.
The application is due before Rotherham Council's planning board this week.
The Millers have played at the Don Valley Stadium since 2008, after a deal to remain at former ground Millmoor was not agreed.
It is hoped the new £20m stadium will be completed in 2012.