New osteoporosis scanner to aid diagnosis in Sheffield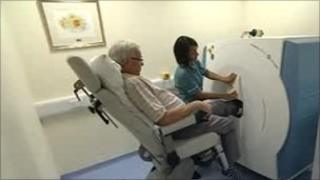 Doctors say they hope a new scanner in Sheffield that creates microscopic images of bones will help detect osteoporosis earlier.
The XtremeCT creates images of the wrist or ankle bones revealing their structure and density.
Experts at Sheffield Bone Biomedical Research Unit (BRU), at Northern General Hospital, said it hoped the new scanner would enable early diagnoses.
They also hope it will show the effects of body weight on bone strength.
Doctors say one in two women and one in five men over the age of 50 will suffer a fracture due to osteoporosis.
Bone biopsy
Dr Jennie Walsh, from the unit, said: "To get this sort of detail before we would have actually had to take a bone biopsy and look at it under a microscope, so to be able to do that non-invasive by just using a scanner is a really big step forward.
"It gives us so much more detail about the structure of the bone, so it helps us to really understand the processes going on, and so that means we can understand much better how osteoporosis develops and it also helps us to understand how treatments work."
Experts at the BRU said they believed current bone density scans did not fully explain bone strength, size or structure, or how treatments affect the bones.
Professor Richard Eastell said: "It will enable us to go into much greater detail when examining the bones of patients than we were previously able, looking at the quality of bone structures rather than simply bone density.
"This will benefit many patients with osteoporosis and we should be able to flag up problems and make diagnoses earlier."