Man found guilty of Sheffield street stab murder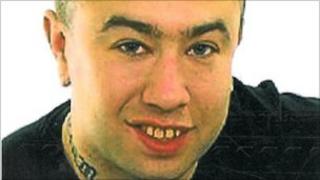 A man has been found guilty of murder following a stabbing in Sheffield.
Damian John Taff, 29, was found with stab wounds on Swanbourne Road on 1 September 2010. He died from his injuries in hospital.
Benjamin Grant, 30, of Swanbourne Road was found guilty of murder and conspiracy to supply Class A drugs at Sheffield Crown Court.
Three others were also found guilty of various charges relating to the case. All will be sentenced on 19 May.
Ryan Paul Wood, 29, of Liberty Place, Stannington, was cleared of murder but found guilty of conspiracy to supply Class A drugs and remanded in custody.
Antonio Anderson, 31, of Parson Cross, Sheffield, pleaded guilty to perverting the course of justice and was remanded in custody.
Helen Rebecca Thomas, 27, of Follett Road, Sheffield, was found guilty of perverting the court of justice. She was granted bail.
All three are due to be sentenced at Sheffield Crown Court next month.