Doncaster council: Labour refuse to join cabinet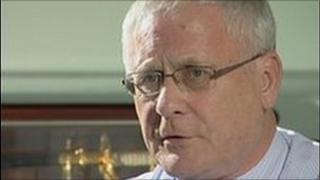 Labour councillors in Doncaster have turned down an offer to join the elected mayor's cabinet because they claim he is too "right wing".
The move comes 11 days after the local elections which left Labour with 43 of the council's 63 seats.
The party said it would not work with Peter Davies, an English Democrat, because his policies did not reflect Labour's dominance on the council.
Mr Davies said the decision to reject two cabinet places was "regrettable".
'Operating well'
He said: "Doncaster is currently operating well but, like all councils, we have some hard challenges ahead.
"I have been keen to create a broadly based cabinet and offered the Labour group two places immediately and possibly a third in due course."
He said he would form "a strong cabinet from the rest of the council".
The Labour group said it would form a shadow cabinet "to ensure the mayor and his cabinet are held to account".
Doncaster became the first metropolitan borough council in the country to introduce an elected mayoral system in September 2001.
Labour councillor Martin Winter was the first elected mayor, holding office from 2002 to 2009 when Mr Davies was voted in.
Shortly after taking office he threatened to cut funds for translation services for immigrants and the town's Gay Pride festival.
He also said the Taliban had introduced "an ordered system of family life".
'Strong opposition'
In February 2010, Mr Davies lost a vote of no confidence amid criticism of the way he had run the council.
Labour group leader Sandra Holland said: "Labour cannot join a cabinet which would leave us having to take responsibility for decisions taken by a group of right wing, and very right wing, politicians with whom we completely disagree.
"Instead, Labour will provide a strong opposition to Peter Davies and his administration.
"We will be setting up a shadow cabinet to ensure Labour's voice is heard across the range of decisions taken by the council, so the voices of all the people who voted for us are heard."
"In addition to this, Labour councillors will work hard in their communities, listening to the electorate to make sure their concerns are being heard by the mayor and his cabinet."