Doncaster Deaf Trust exhibit at Chelsea Flower Show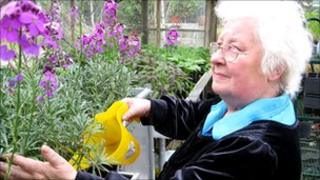 Deaf students in South Yorkshire are creating a sensory garden for this year's RHS Chelsea Flower Show.
The Doncaster Deaf Trust is entering the Urban Garden category for the first time and will compete against professional designers and landscapers.
Local gardener, Graham Bodle, has been working with students to create a garden which "stimulates the senses".
He said they had chosen plants which had a striking appearance or smell so that deaf people could enjoy them.
These will include jasmine, a variety of ferns and fruit trees.
Two areas of the garden will be dedicated to benched areas, which face each other, to aid sign language.
'Fantastic job'
A water sculpture will be the main focal point of the garden made of stone and steel, called 'Touch' which as it alludes to, encourages people to touch and feel the different textures of the sculpture.
Ten students from the college aged between 16 and 22 have worked since January to help grow some of the 3,000 plants which will feature in the garden.
Bobbie Roberts, chair of the trustees, said: "It's been one of the most exciting things in my life."
She praised Mr Bodle, who is a previous winner at the RHS Chelsea Flower Show.
She said: "Graham has done a fantastic job in creating a visually beautiful and sensory garden which will benefit our deaf and hearing impaired students for years to come."
Once the seven-day show has come to an end the sensory garden will be rebuilt within the grounds of the Doncaster Deaf Trust on Leger Way.
The trust need to raise £3,000 before the garden can be installed.
It is recruiting volunteers to help landscape the garden.