Church Army relocate head quarters to Sheffield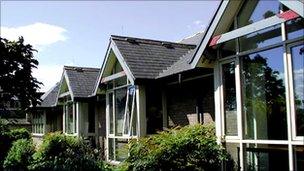 The Church Army has relocated its headquarters from London to South Yorkshire.
The new home of the Church Army in Sheffield, will be officially opened on 2 June by the Earl of Wessex.
The Earl who has worked closely with the Christian group will open The Wilson Carlile Centre on Cavendish Street.
The centre - which is named after its founder - will have the first service led by the Archbishop of York.
Dr John Sentamu who is also Vice President for the group said in a statement:
"It is my hope that this centre becomes a hub for mission and a place of warm welcome for all visitors."
The £2m building project has seen a wide range of facilities added to the centre, including a cafe, library, bookshop, chapel and 30-bed conference centre, which will be open to the public.
The Church Army's training department, research team and office staff will also be based at the centre. The move means big changes for Church Army personnel.
Only three people have made the move from London to Sheffield.
One of them is Director of Support Services, James Archer, who said: "It was quite traumatic saying goodbye to lots of people down in London, but we've got 25 wonderful new staff here and I've been very impressed with the calibre of people we've been able to recruit in Sheffield."
The Church Army is the missionary wing of the Anglican Church.
Mr Archer describes it is a national society of evangelists which is all about sharing faith through words and actions.
"Most of our people are working in the community, mostly with people who wouldn't normally go into church, who often don't have any knowledge of Jesus but who are hungry for something more than just the basics of life."
Related Internet Links
The BBC is not responsible for the content of external sites.