Compass Engineering guilty over injured worker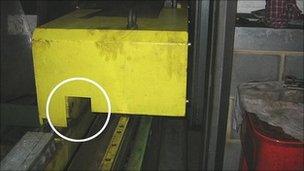 Two companies have admitted breaking health and safety laws after a worker survived being dragged through a gap in a machine the width of a CD case.
Matthew Lowe suffered multiple injuries when he was pulled through the 5in (13cm) gap at a factory in Barnsley, South Yorkshire, in December 2008.
There was no guard on the steel processing machine, magistrates heard.
Compass Engineering and Kaltenbach, which installed the machine, pleaded guilty to breaking safety at work laws.
Barnsley magistrates decided they did not have sufficient powers to sentence and the case was sent to Sheffield Crown Court for sentencing on 30 June.
The court heard that Mr Lowe, now aged 25, ruptured his stomach and bowel, broke his back in two places, shattered his pelvis and fractured both hips, his right arm and several ribs in the accident.
A Health and Safety Executive (HSE) investigation revealed there was no guarding in place to protect the worker from dangerous moving parts on the computer-operated machine.
Prosecuting, Chris Chambers said: "The machine could start, stop and restart without warning to the operator.
"As Matthew leaned through the hatch he was struck on the back of the shoulder and pulled through. Shoulder to feet he was pulled through the opening... the width of a CD case."
The prosecutor said he suffered "life-threatening and life-changing" injuries and his family was told to prepare for the worst.
The court was told he survived the ordeal and went on to make a good recovery, even returning to work at Compass Engineering, where he was retraining as a site supervisor.
Speaking after the case, Mr Lowe, a father-of-one, said: "It is a completely different life from what it was. I have suffered a setback in my mental health that has come as a bit of a shock.
"I still have problems with my right arm and left hip but that is not as bad as being told I might not make it.
"I still can't believe I'm here. The thought of how close I came to death still haunts me."
Related Internet Links
The BBC is not responsible for the content of external sites.