MP Ed Miliband supports Mexborough market traders' plea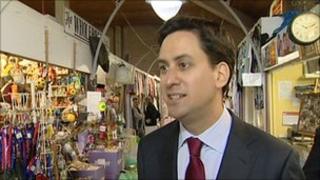 Doncaster North MP Ed Miliband has visited Mexborough Indoor Market to support traders in their campaign against a big rent increase.
The stallholders' fee is due to rise by up to 500% from the end of September.
The Labour leader said the council needed to take a hard look at the issue and the rise was "disproportionate".
Doncaster council, which is led by English Democrat elected mayor Peter Davies, said: "The increase will be used to make improvements."
The council statement added: "Rents have not gone up for 15 years and we appreciate it is a large increase, but we think stallholders will see the benefits of the rise."
The minimum rent is expected to rise from £15.72 to £78.60 a week over three years.
Mr Miliband said: "Mexborough market is one of the main attractions that brings in shoppers to the High Street."
The traders accept that there should be an increase but claim they cannot afford the new rates.