Rotherham residents can keep solar panels on houses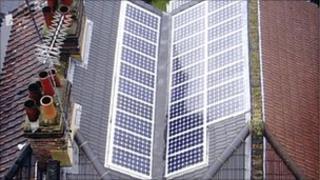 Residents living on an estate in Rotherham have won the right to keep solar panels on their houses following a legal challenge by their landlords.
The judge dismissed claims by W Redmile and Sons that residents broke tenancy agreements by fitting the panels.
Judge Caroline Hunter said the panels on the homes in Aston were no more annoying than satellite dishes.
In a statement, the company said it was environmentally friendly but had safety concerns about the panels.
Managing director Stewart Davies said: "We are pleased with the ruling. There are no grounds for a ground rent landlord to refuse permission for people to fit solar panels."
Resident Joanne Parry said: "We were surprised it ended up in court, you wouldn't think that you would need to go to your landlord to get authorisation to put some solar panels up."
The residents who own the leasehold of the houses pay a peppercorn rent of £90 a year to the landlords.