Royston cars arson: seven vehicles damaged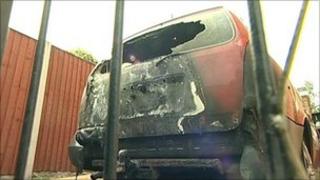 Seven cars have been set on fire as arsonists struck in two neighbouring streets near Barnsley overnight.
Firefighters found the vehicles ablaze in Cross Lane and Bisley Close in Royston in the early hours of Friday.
Residents described their shock as some of the vehicles were set alight in driveways close to their homes.
Zoe Waddington, whose car was badly damaged, said: "They must be off their heads to do something like this. They could have cost lives."
'Feel sick'
South Yorkshire Police said they were working with the fire service to investigate the arson attacks, but no arrests had yet been made.
Det Ch Insp Sean Middleton, of South Yorkshire Police, said: "This is a concerning but isolated incident. As yet no specific motive has been identified.
"A team of detectives are investigating and over the forthcoming days there will be increased uniformed patrols in the area."
The vehicles involved included a Jaguar saloon, a Land Rover, a Ford Mondeo, a Vauxhall Astra and a Toyota Celica.
A fire service spokesman said: "Some were parked on their drive, close to houses, and we had to work quickly to stop fire spreading to the properties."
Russell Greenfield, whose wife's Jaguar car was torched on their drive, said: "I'm really upset and gutted by it.
"I've had to take a day off work because I've got to sort out all the insurance."
Brenda Easby, who lost two cars in the crime spree, said: "I feel a bit sick actually.
"In fact, I feel even sicker now I realise the house was so close to getting burnt as well."