Sheffield's World Student Games £658m debt 'disaster'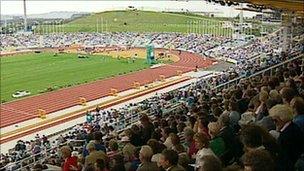 The World Student Games which took place in Sheffield 20 years ago ran up an overall debt of £658m.
Sheffield Council, which funded the 1991 games, has revealed it will continue to repay £25m a year until the debt is paid off in 2024 despite having to make savings of £80m this year.
Lib Dem group leader Shaffaq Mohammed branded the games a financial disaster.
Bryan Lodge, deputy leader of the Labour-controlled council, said the games venues are an asset.
As part of the project for the World Student Games, the council built large sporting facilities in Sheffield to host events, including Don Valley Stadium, Ponds Forge, Sheffield Arena and Hillsborough Leisure Centre.
Following a request by the BBC, the council released figures stating that the cost of building the facilities totalled £147m and a further £21.4m was spent on staging the games.
It said £297m has been repaid, however the final amount will not be fully repaid until April 2024.
The leader of Sheffield Council during the games in 1991 was Clive Betts, now Labour MP for Sheffield South East.
He told the BBC he blames past administrations at the council for "remortgaging the debt", said the total debt was "total nonsense".
The chief executive at the council, John Mothersole said the debt had been "re-profiled four-times" which has lead to the outstanding debt increasing as part of the council's bid to "spread the financial load."
Mr Mohammed said he was not "against developing sporting facilities" but was disappointed at the finance package and feels Labour should apologise.
Mr Lodge said: "It's the nature of local government finance that debts are extended are re-profiled, also known as re-financing.
"It was a decision taken at the time to regenerate the lower Don Valley and was right at the time."
A building which was commissioned for the World Student Games includes Waltheof Sports Hall, which was demolished in 2006.
The council said it spent £1.25m on the build but claims it was in need of substantial investment after 15 years of heavy useage.
Related Internet Links
The BBC is not responsible for the content of external sites.