Retirement service for Bishop of Doncaster Cyril Ashton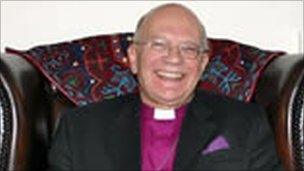 The Bishop of Doncaster, the Right Reverend Cyril Ashton, is retiring after 11 years in the post.
A service celebrating his ministry is to take place at Doncaster Minister.
Bishop Ashton said: "It's been a marvellous experience with some challenges to face but people have been kind and refreshingly blunt which is good for a bishop to hear."
He was previously a vicar in Lancaster and director of training for the Diocese of Blackburn.
The bishop said he intended to pursue his hobby of motorbiking and classic cars in his retirement.
He said: "Two of my sons are bikers and we plan to do some touring in this country and across Europe over this next year or two."
The former Bishop of Sheffield, Jack Nicholls, who appointed Bishop Ashton as Bishop of Doncaster, will give the address at the farewell service.
The current Bishop of Sheffield, Dr Steven Croft said: "I know Bishop Cyril is looking forward to an active ministry as a retired bishop and so he will continue to preach, teach and lead others in the Christian faith.
"We are very grateful to have had him amongst us."
Bishop Ashton and his wife Muriel are moving back to Lancashire to enjoy their retirement.
Related Internet Links
The BBC is not responsible for the content of external sites.