Actor David Oyelowo stars in Sheffield College film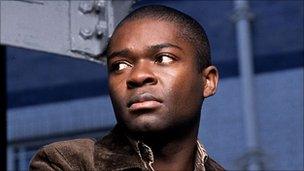 A South Yorkshire college lecturer and his students are to produce a film starring Hollywood actor David Oyelowo.
Rob McLellan, from The Sheffield College, won the chance to have his film Rahab made in the Enter the Pitch competition.
The 15-minute film features Mr Oyelowo, who appeared in the film Last King of Scotland and the BBC drama Spooks.
It is being shot at the college, Magna in Rotherham and in the Peak District.
Oyelowo said: "I always look for opportunities to encourage and support up and coming talent."
Mr McLellan said: "I am ecstatic about the opportunity to be making a professional film in our community for an international audience."
The Enter the Pitch competition asked potential film makers to present, film and then upload their pitch on to a website. Each pitch had to be based on a verse, character or story from the Bible.
Mr McLellan's story is based on the Old Testament story of Rahab - a prostitute from the city of Jericho, who saves the lives of two Jewish spies and is, in turn, saved by them.
Mr Oyelowo was a judge on the panel which chose the winning pitch. He said: "Rob had a very clear vision and the story was very compelling."
Related Internet Links
The BBC is not responsible for the content of external sites.