Arson attack rise in South Yorkshire 'risking lives'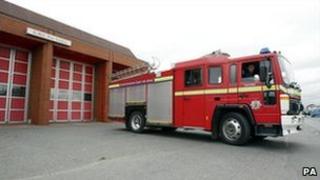 Fire chiefs in South Yorkshire have warned lives could be lost as a result of a huge increase in arson attacks.
Over the last week, county's crews have been called to up to 55 deliberate fires a day, which the fire service said was double the daily average.
Steve Makepiece, head of community safety, said it meant crews were being diverted from more serious fires.
He said there had been a fire in the past where a girl had died due to nearest crews dealing with an arson.
He said: "That young girl died in her house simply because the fire truck wasn't there.
"The next nearest one took another six or seven minutes to get there, that's the difference between life and death."
Mr Makepiece said the majority of the fires were bin or grass related, which had the potential to escalate.
"The rise is worrying," he said.
"It's about getting through to those people who are in the minority, to just think before you do it, think about the consequences of these fires."