Sheffield Hallam degree honour for referee Howard Webb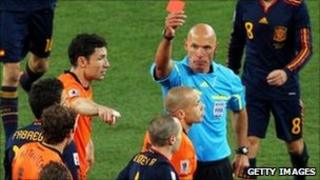 World Cup and Premier League referee Howard Webb is to receive an honorary degree for his services to sport.
Mr Webb, who is from Rotherham, will be presented with his degree at Sheffield Hallam University on 22 November.
He received altitude training and mental coaching from the university's psychologists and physiotherapists before the 2010 World Cup.
Mr Webb, 40, who is also a South Yorkshire Police officer, said he was "delighted" to receive the honour.
Mr Webb, who refereed the finals of both the World Cup and the Champions League in 2010, said the degree "cements my relationship with Sheffield Hallam and its academic staff".
"Their expertise proved invaluable in my journey to the World Cup final and I look forward to working with them during the forthcoming football league season," he said.