Rotherham Central Station development behind schedule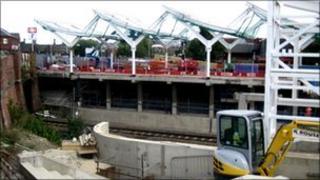 The redevelopment of a railway station in South Yorkshire is overrunning by almost a year.
Rotherham Central train station is undergoing an £8.5m refurbishment to "create a new gateway" to the town.
The South Yorkshire Passenger Transport Executive [SYPTE], which is funding improvements, apologised for the delay.
Work which started in February last year was due to be completed in December 2010. However the works will not be completed until this summer.
As part of the improvements the station will have new lighting installed, CCTV, a new waiting room, passenger information screens, a ticket office and retail kiosk.
Disabled access to the station will also be improved.
'Taking longer'
Until the improvements, passengers who want to travel south have to catch a train to Meadowhall (north) and change platform using the disabled access there to reach the correct platform.
After the works are complete at Rotherham Central, passengers with limited mobility will be able to use the station to travel north and south, using a lift.
David Young, director of customer experience at SYPTE said: "It is taking longer than what we want and for that I apologise, but the difficulty was taking forward this exciting project in a live railway environment."
The transport executive said any additional costs from overrunning in the project would be met by the contractors.
As part of the improvements the canal area close to the station is also being landscaped.