School Games launches in Sheffield for four-day event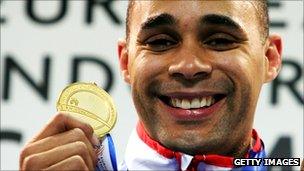 Hundreds of school children will gather in Sheffield over the next four days for the UK School Games.
The Games will be officially opened at the Sheffield Arena on Thursday, with 1,600 young people competing in the city in 12 events.
Seven venues in the city will be used, including Don Valley Stadium, iceSheffield, Ponds Forge and Abbeydale Sports Ground.
Paralympic gold medallist, Ellie Simmonds will open the event.
The four-day event will feature 12 sports which include athletics, badminton, cycling, fencing, gymnastics, hockey, judo, swimming, table tennis, volleyball and rugby sevens. Some of the disciplines will be open as disability events, including wheelchair basketball.
Ali Oliver from the Youth Sport Trust said the Games were an opportunity for young people to experience competitive sports.
"School Games is a multisport championships for the most talented school athletes across the UK and the idea is to replicate something like the Olympics, the Paralympic and Commonwealth Games.
"Young talented athletes get the experience of living together, competing together, so that when they do get to the real thing, they have had the chance to learn some really important lessons."
The UK School Games has run across various venues in the UK since it launched in 2006.
The Games has been funded by the Legacy Trust UK, which is a charity which has been set-up to leave a legacy after the London 2012 Olympic Games and National Lottery funding.
Related Internet Links
The BBC is not responsible for the content of external sites.