Police appeal over 10-year Royston murder investigation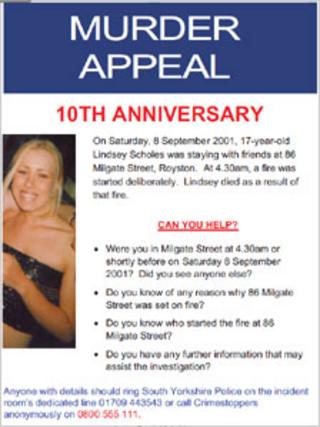 A South Yorkshire community are being urged to help solve a 10-year murder investigation in which a 17-year-old year was killed after a house fire.
Lindsey Scholes died of brain damage after suffering burns and smoke inhalation in the fire in Royston, near Barnsley, in 2001.
Officers will be in Royston until the weekend, handing out flyers and talking to people about the case.
Lindsey's mother said the family deserved justice.
Jackie Meloy said: "It just feels like yesterday to us. It's just never out of our heads."
Lindsey's brother Shaun, 21, has set up a page on Facebook to mark the 10-year anniversary of her death.
Mrs Meloy said: "He misses her. When I have spoken to him he gets in tears. They were very close when they were younger.
Lindsey's mother said the family should not have had to wait more than 10 years to see justice done.
'Pain and fear'
She said: "It shouldn't have to be brought up like this all the time. We are sitting here appealing, begging people to come forward and we shouldn't have to do that.
"I really do think somebody out there knows what happened.
"This person's confided in somebody and what I want to say is 'think about what Lindsey went through that night in the fire and the pain and fear she was going through'."
Lindsey was staying with two friends after a party at the house in Milgate Street, when the fire was started in the early hours of 8 September 2001.
Her friends jumped from an upstairs window but Lindsey was too scared to follow them.
Det Supt James Abdy said he was still "very, very optimistic" that the case could be solved.
He said Lindsey's killer was likely to have confided in someone and he urged that person to come forward.
"I am convinced that the answer to this does lie in or around the Royston area, " he added.