Pregnant horse rescued from Doncaster cess pit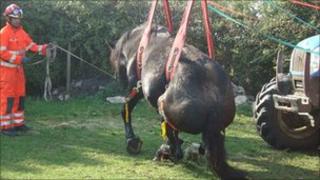 A pregnant shire horse which fell into a 7ft (2.13m) cess pit in South Yorkshire has been rescued by firefighters using heavy lifting gear.
Emergency services were called to the incident, on Hawkehouse Green Lane in Doncaster, at about 07:30 BST.
It is believed the 11-year-old horse, called Izzy, had been in the pit all night but was unharmed by the ordeal.
Tony Carlin, from Thorne fire station, said the rescue was made more difficult due to the "sheer size" of the horse.
'Extremely hard'
It is thought Izzy was trapped in the pit after falling through a concrete cover.
A vet had to be called in to sedate the horse for her own safety.
Members of South Yorkshire Fire and Rescue Service's technical rescue unit and a crew from Thorne fire station took about two-and-a-half hours to free the animal.
Mr Carlin said: "Our crews worked extremely hard and we're delighted we have been able to reunite it with its owners."
Linda Curtis, Izzy's owner, said she "could not praise enough" the efforts of Izzy's rescuers.
"They did an absolutely brilliant job and are a credit to the county," she said.