Sheffield school to reopen after sex assault claim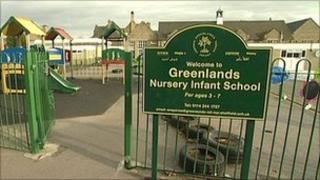 A school in Sheffield is expected to reopen on Thursday after an allegation of a serious sexual assault on a pupil.
A person has been arrested, questioned and released on police bail in connection with the alleged assault at Greenlands Nursery Infant School.
Sonia Sharp, executive director of children, young people and families at Sheffield Council, said it was expected the school would reopen.
Council officials and police met parents at the school on Monday.
The meeting was attended by about 250 parents, some of whom had to wait outside as the school's hall was full.
Dr Sharp said: "Our specialist staff have been on site at the school providing support to individual parents who might be anxious or concerned.
"We would like to thank everyone for their continued support and would like to assure parents and pupils we are working to resolve this matter as quickly as possible to ensure children continue with their education."