Hoyland landlord forced to change swipe-card beer dispenser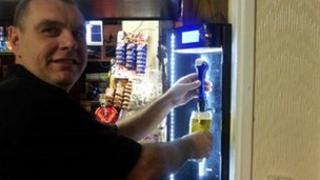 A pub landlord who installed a swipe-card machine in his pub to dispense beer has been told to stop using the device by trading standards officers.
Dave Barron of the Queen's Head at Hoyland near Barnsley is to redesign the device as a result of their concerns.
He said he had been told the machine had to dispense "metered measures" to customers with pre-paid cards.
Barnsley Council said it was seeking more advice on the use of the machine.
The machine enables customers to pre-pay for four pints at a time.
Mr Barron said customers must go to the bar to buy the pre-paid card so staff control its use.
But after a visit from Barnsley Council officers, Mr Barron has said he intends to work with a firm who can design modifications to the machine.
New patent
He said: "I'm redesigning the machine and will put a new patent application in.
"The officers told me the machine could only dispense drink in metered measures and not be free-flow.
"It has to pump beer in increments of half-pints and not just pump liquid in monetary value.
"I'm working on a design to comply with the regulations and from now, I'd be disappointed if I don't have something working within a month.
"Then I'll contact the officers so they can come and have a look."
Susan Dewar, the principal officer at the council's business regulation unit, said: "The landlord has agreed to refrain from using the beer pump until we are able to confirm whether it is legal to use under weights and measures legislation.
"He did confirm to our officers that he was taking it out of the bar last Friday.
"We are considering the matter and seeking further advice in the use of this type of weights and measures equipment and will advise the landlord as soon as possible."