140 new houses planned for steel town Stocksbridge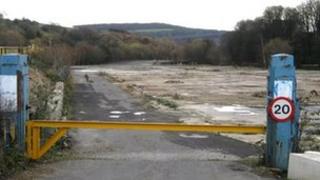 A South Yorkshire town could see 140 new houses built to accompany a retail project, if plans are passed later.
The new housing development in Stocksbridge would be on the site of the old Samuel Fox steelworks, which once employed 12,000 people.
The retail project was approved in 2009 and includes cafes, shops, offices and a supermarket on the former Outokumpu steelworks site.
Sheffield Council is expected to approve the proposals later today.
Since the decline of the steel industry unemployment has been high in the town.
Martin Brailsford, mayor of Stocksbridge, said he hoped the development would provide employment opportunities in the area.
"We'd much prefer to be able to carry on manufacturing things and producing things in Stocksbridge - we've always been a great producer of specialised steel and Tata are carrying that on," he said.
"We have to face reality and see that in this economic climate people simply aren't investing in that therefore we've got to look best to how we can provide jobs in other spheres. Talking to local people, a lot of them can't wait for the [retail] places to open to actually create some employment in the town."