Surge in people accessing South Yorkshire credit union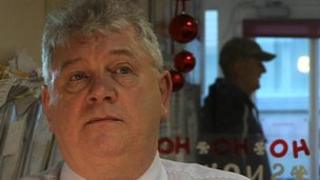 A credit union in South Yorkshire has said business has increased by 20% over the past year as more people struggle in the economic climate.
South Yorkshire Credit Union Association, which is mainly used by people who cannot open High Street bank accounts, has six branches.
Chief executive Ian Guest said: "The problems we are seeing are endless."
Mr Guest said he had concerns about the future with more people being made homeless and having to use food banks.
Credit unions are small-scale savings and loan co-operatives that typically serve people on low incomes to help them avoid the crippling interest rates offered by loan sharks.
Martin Wordsworth, credit union member, said: "I've been not been able to get a bank account for the last 10 years because I've got a prison record.
"Before these were open I'd have had to go to a pawnbrokers to pay to get my own money and that would have cost me about £20 and when you're on benefits it's a big lump sum."
Mr Guest said people accessing the credit union's services were experiencing a range of problems such as struggling with rent arrears, paying everyday bills and saving for a house deposit.
He said many customers were caught up with payday loans - small, short-term, unsecured loans designed to tide people over until their get their salary.
"It's a real, real problem because they feel like they are trapped in a mire of debt and they feel no-one is going to help them and that they are victims of extortionate credit."