No licence change at Sheffield student Bar One pub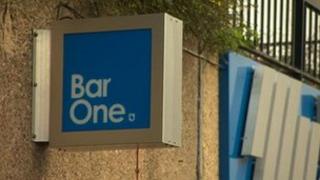 Councillors in Sheffield will make no change to the drinks licence for a bar where a student had been drinking before she was hit by a bus and left seriously injured.
The accident on 14 December in Glossop Road happened after the teenager left the students' union Bar One pub.
It is thought she had been drinking heavily at an all-day event at the bar.
Councillor John Campbell said the licensing committee's view was the bar was "well managed and well run".
Mr Campbell, chairman of the committee said there was no evidence of "serious crime or disorder".
In a written application to the city council, South Yorkshire Police had outlined concerns about "irresponsible" drink promotions.
After the decision Supt Martin Hemmingway said: "I stand by my view that it was a cause for concern and we were right to bring it to their attention."
Suffered head injuries
The union's Christmas event ran from 1000 GMT on Wednesday, 14 December until the early hours of Thursday.
In a website statement the students' union said it would continue to work closely with police and licensing authorities in improving the safety of students.
The 18-year-old woman from Suffolk, suffered head injuries and her condition is described as "serious". She is recovering in the Royal Hallamshire Hospital.
Police also want to hear from a man who helped the woman after she was hit by the bus.
The man, who is described as being white and aged between 30 and 40 years old, helped the woman before paramedics arrived.