Man appeals over parking fines after numberplate cloned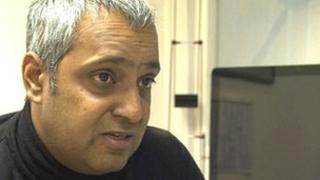 A West Yorkshire man says he has disputed thousands of pounds of fines after his car numberplate was cloned.
Altaf Sadique, from Leeds, received at least 25 parking fines and congestion charge penalties from across the UK.
Tickets came from police forces as far away as Plymouth and Dorset - despite his car being in West Yorkshire.
Mr Sadique claimed police forces were reluctant to investigate the matter because they were unlikely to catch the criminals involved.
'Deluge of fines'
The penalty notices spanned the period from June to December 2011.
Mr Sadique realised his car numberplate had been cloned after the DVLA confirmed the fines were not an error on its part.
"We had a deluge of fines, all for times we hadn't been in London and places we'd definitely not visited," Mr Sadique said.
Vehicle cloning is where criminals find an exact match of a stolen car, copy its identity and make it look legal by fitting false numberplates.
Mr Sadique successfully appealed against all the fines but said it had taken a considerable amount of time and effort, as he had had to provide evidence for each police authority involved.
"The most frustrating thing is when you appeal the fines, you're asked for a crime reference number as proof you've been a victim of a crime," he said.
'Treated with suspicion'
"You can't supply one and it puts the onus on you to prove your case.
"You're treated with suspicion... In one instance I was asked to prove my car hadn't been resprayed, which I think is pretty unreasonable really."
West Yorkshire Police said that although none of the incidents had happened in its jurisdiction it would try to help.
"We recognise that Mr Sadique is one of our residents and a neighbourhood policing team officer has already tried to assist him," the force said.
"Given the ongoing nature of these incidents, we are again looking at what further assistance we can give to help solve the problem."