Homeless charity St Wilfrid's in accommodation plan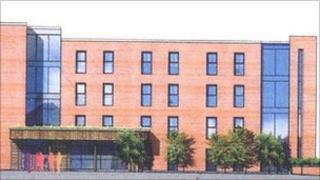 A plan for a residential centre for 52 vulnerable and homeless people has been approved at the site of a car wash in Sheffield.
The plot of land on Queens Road was donated to the St Wilfrid's Charity by the Diocese of Hallam.
Under the plans approved by Sheffield Council on Monday, a four-storey building would be built on the site.
Charity director Kevin Bradley said he wanted local people to help fund the project which would cost about £1.8m.
It would comprise 16 one-bed apartments and 37 beds across seven shared units. There would also be a common room, laundry, meeting room and staff office.
"I realise that the government and council are not going to fund the project at the moment - I understand that," said Mr Bradley. "But I think that we, the people of Sheffield, can do it."
'Helping hand'
Mr Bradley has been director of the charity for homeless and vulnerable people since the project started in 1991.
He thinks after 20 year's experience he knows the root cause of much homelessness.
"I am convinced that the homelessness situation is caused by mental health problems," said Mr Bradley.
"Of the people that come to St Wilfrid's, 80-90% have either suffered mental health issues or have mild learning disabilities.
"We must try to help people into accommodation rather than giving them keys for a flat and just leaving them, which is no good because some people just cannot cope with life - they need a helping hand."
Mr Bradley said that vulnerable people are not looked after by society as well as they used to be.
"Years ago we had a great community spirit. People with mild learning disabilities who were thought of as 'slow' were looked after - given jobs in factories, sweeping up or bringing in the sandwiches. But all that's gone."
Lessons in life
As part of a two-year contract at the centre, residents would attend classes in life skills such as employment and cookery.
The site for the residential centre is close to the charity headquarters, a Roman Catholic parish church on Queens Road in Heeley.
The charity also has two allotments on the Gleadless estate, from which vegetables are produced for meals at the centre.
St Wilfrid's Centre is a Catholic charity run on Christian lines, but Mr Bradley insisted that regardless of religion, everyone was welcome.
Under the plans, residents would move into a self-contained flat to get used to daily life for the last six months of their tenancy at the centre.
They would then be helped into a council or housing association flat.
The present centre, which costs £300,000 a year to run, has had support from Channel 4's Secret Millionaire Simrin Choudrie who pledged £20,000 per year for the next five years towards the centre's costs.