Mother of Ben Needham has 'lifeline' laptop stolen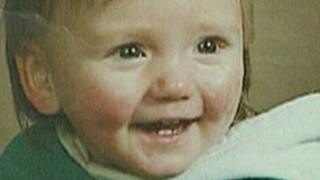 A mother whose son disappeared while on holiday 21 years ago has had information relating to his search stolen in a burglary at her home.
Kerry Needham's son Ben went missing during a family holiday on the island of Kos in 1991 when he was 21 months old.
Thieves took a laptop during a break-in at her house in Sheffield.
Ms Needham said the computer contained photos of Ben and was a "lifeline" in the search for her missing son.
She said: "The laptop was very personal to us because there are an awful lot of documents on there regarding Ben."
She added: "It's my way of keeping up with Ben's campaigns on Facebook and Twitter. Keeping in touch with the press and the public via e-mail and things like that. It's my lifeline really to keep up with Ben."
None of the material on the computer was backed-up elsewhere.
Ms Needham appealed to anyone with any information about the stolen laptop to get in touch.
She said: "If somebody has got a conscience. That laptop would be very, very identifiable as to who it belongs to with all the stuff on it. "