South Yorkshire bus permit scheme for mobility scooter users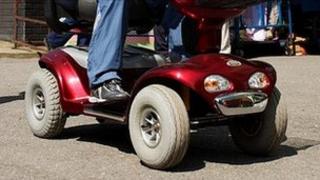 Mobility scooter users are to be issued with a permit to clear up confusion over whether they are allowed to travel on buses in South Yorkshire.
The county's passenger transport executive is launching the Scooter Code scheme with bus operators First and Stagecoach.
Some mobility scooters are suitable to take on buses while others are too big and cause an obstruction.
The passes will be free and issued after a free assessment.
Scooters are accepted on the county's buses provided that they are no more than 600mm wide and 1000mm long with a turning radius not exceeding 1200mm.
David Brown, director of South Yorkshire Transport Executive, said: "We have to make sure they are safe to use on the bus so they can't be too heavy and have got to be able to get up the ramps.
"Those ramps will take up to 300kg which is 47 stone so they can only take so much."
He added: "There are some of those really fast 6-8mph buggies, they are too big and won't get on a bus as they could get stuck and that's not clever for anybody."
Mr Brown said it was intended that that the passes would give "100% confidence" to mobility scooter users that they can travel on buses.
"People will be able to turn up at the bus stop, hopefully a bus turns up and space permitting they will be able to get on with no argument or no question."
First and Stagecoach are having a Scooter Code start day at Sheffield Transport Interchange on 22 February from 10:30 GMT to 15:00 GMT.
The firms will be offering to carry out assessments and provide information.
Anyone wishing to arrange an assessment must contact the bus companies.