Sheffield refuse collectors vote for strike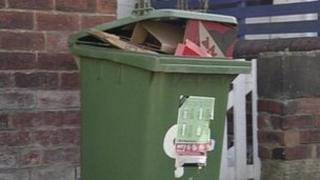 Refuse collectors in Sheffield have voted in favour of industrial action, including a strike, in a dispute over pay.
The GMB union said it would be holding discussions in the next few weeks with Veolia, which manages waste collections for Sheffield Council.
Pete Davies, from the union, said he wanted to see workers' wages increased by 5% after a three-year pay freeze.
A spokesman from Veolia said it was in discussions with the union.
Mr Davies said about 200 union members had voted in favour of strike action or industrial action short of a walk-out.
He said: "We're going to be talking to them about pay which is something that they've not spoken to us about for three years.
"The first thing we will try won't be a strike. I would've thought the first thing we would try to do is an overtime ban or work to rule."
Mr Davies said Veolia had received year-on-year increases from the council to keep up with inflation, and was disappointed workers had not seen an increase in their pay.
A Veolia Environmental Services spokesman said: "Wage reviews for our Sheffield refuse collection staff are undertaken at a national level as part of the National Joint Council (NJC) arrangements.
'Regular dialogue'
"In recent times, the NJC negotiations have resulted in no increase being awarded.
"Veolia has always honoured the pay increases agreed by the National Joint Council and will continue to do so in the future.
"In relation to other matters affecting the contract, we are in regular dialogue with the GMB and these discussions will continue."
The GMB union said members were meeting on Thursday to discuss industrial action plans.