Rotherham Council's snow response criticised in report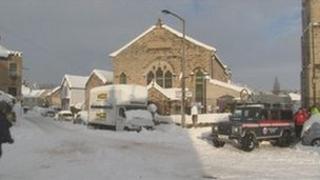 A council in South Yorkshire has been criticised for the way it handled the heavy snowfall last winter.
Rotherham Borough Council has published a report by a scrutiny panel which has 47 recommendations for improvements.
The council said it had already made changes to its provisions following the snow in 2010/11.
Karl Battersby, from the council, said the authority held a "a proper review to see what lessons can be learnt and what we can do better next time".
The report is due to be discussed by the cabinet on Wednesday and has highlighted a number of issues.
It said the council's emergency plan to link services and agencies together in December 2010 was not activated, and added that the council's budget was inadequate for salting the borough's roads, as it overspent by £700,000.
Mr Battersby, strategic director of environment and development services for the council, said: "There are a lot of recommendations here and quite a few have already been acted on because clearly it's been along time since we had this event."
'Pretty good job'
The report also highlights some of positive work which was carried out by the local community. The report said "without them the community would have been cut off entirely".
During the cold spell the council received an increase in reports of broken down boilers - 2,645 over a two-month period.
Mr Battersby said arrangements had already been made for the future, including asking local farmers to assist if needed, as well as improving lines of communication.
"We have much better arrangements in terms of being able to call on 4x4s and we've acquired some additional equipment in terms of salting attachments and ploughs to use in the town centre," he said.
"Clearly we can always learn from these things. We think actually we did a pretty good job with the resources given the nature of the event - clearly we can always do better."