Fencing used to separate fans outside Hillsborough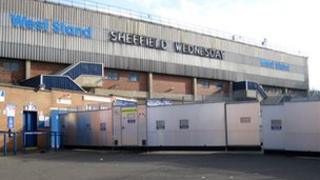 A temporary 7ft-high barrier has been used outside Hillsborough to keep rival fans apart after Sheffield's football derby.
South Yorkshire Police said the barrier was installed during the game between Sheffield Wednesday and Sheffield United for exiting fans.
Supt Simon Verrall said the barriers had helped to free up resources.
The force said it had made nine arrests, with no major incidents taking place.
Up to 400 officers were on duty to assist the 37,000 fans at the sell-out ground, South Yorkshire Police said.
Mr Verrall said: "Given the inevitable tensions in the crowd, behaviour has been as good as possibly can be expected.
"We're happy with the way today has gone.
"Our thanks for the vast majority of fans that have had an exciting day and managed to contain that."