Spearmint Rhino strip club in Sheffield to remain open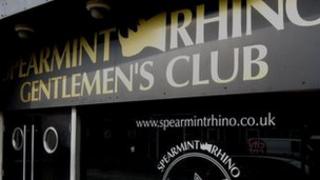 Sheffield strip club Spearmint Rhino is to stay open - despite objections from local businesses.
New licensing rules meant the venue on Brown Street had to apply for a sexual entertainment venue licence.
Steve Lonnia, from Sheffield City Council, said: "The committee looked carefully at all the evidence and took everything into consideration.
"Unfortunately there were no grounds to refuse the application."
Some nearby businesses are opposed to the club because of its location within the city's cultural quarter.
Laura Sillars, artistic director of the Site Gallery on Brown Street, said: "I'm trying to grow an arts business in the city and it's right opposite a strip club - and that doesn't help.
"We've never been against them, we just want to build a great area for the city."
The club had 56 objectors in total.
Two other adult entertainment venues, Scores and La Chambre have also had their licences accepted.
John Specht, UK vice president for Spearmint Rhino, said: "We are thrilled that Sheffield Council has seen fit to grant us the licence despite objections from local businesses.
"We understand some people do not agree with the industry or the service we provide but it must also be said that there are a lot of misconceptions which were clearly shown by the objectors who demonstrated their lack of knowledge or tolerance of our business."