Campaigners can buy Sheffield's historic Portand Works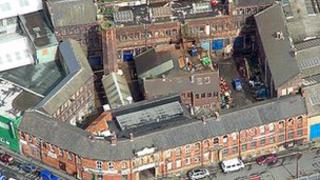 Campaigners trying to save a historic building for use by specialist trades in South Yorkshire have been told they can buy the building.
Portland Works was built in the 1870s in Sheffield and the Grade II*-listed building is now a shared workspace.
The landlord of the works has agreed to sell the building to the Portland Works Committee for £420,000 in staged payments over four years.
It was the first in the world to make stainless steel cutlery in 1913.
About 35 people now use the works including silver platers and engravers, cabinet makers, a specialist knife maker, artists and musicians.
The building was built between 1877 and 1879 for a cutlery company that let out most of the building to sub-contactors in the trade.
In this way cutlery craftsmen worked together under one roof and some of these specialist trades are still practised there.
Stuart Mitchell has worked in the complex as a knife-maker since 1980 and took the business over from his father in 1996.
'A turning point'
He said it was "important to pass the skills on" and he felt "responsible" to keep the practises alive.
Derek Morton, chair of the Portland Works Committee, said the decision to sell the building was "a turning point" and it would be the start of a 10-year campaign to make the building weather-proof and improve facilities.
More than 300 individuals have contributed amounts ranging from £100 to £20,000 to a share offer to help the purchase of the building
Mr Morton said: "The response has been fantastic."
He said the legal process to complete the purchase was under way.