Doncaster business leaders back an elected mayor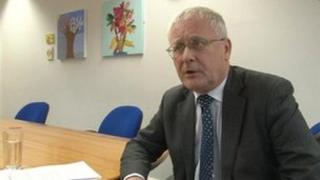 Business leaders in Doncaster have voiced support for an elected mayor in Doncaster ahead of a referendum on the system on 3 May.
The town's chamber of commerce said it had taken a "snap poll" of 1,000 members and 85% of the several hundred replies were in favour.
Chamber deputy chief executive Dan Fell said: "Business likes a system that puts an individual at the top."
Peter Davies, of the English Democrats, is currently the town's elected mayor.
The decision to have a referendum on the issue in 11 of England's biggest cities was taken after a three-month public consultation.
'Pace of change'
Mr Fell said the forthcoming referendum should not be about an individual but about the model that gives the town a mayor.
He said that he doubted the town would have seen the "pace of change" it had without "someone at the top".
But Gordon Millward, from the South Yorkshire branch of the Federation of Small Businesses, said he was against elected mayors.
He said he felt it was "more democratic" to work from collective decisions rather than one person's decisions.
Mr Millward also criticised the cost and bureaucracy of an elected mayor.
Doncaster has had an elected mayor for 10 years.