New Campsmount College will open its doors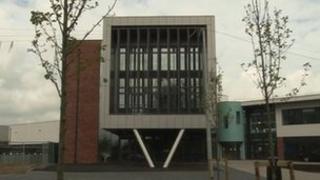 A Doncaster school destroyed by fire two years ago opened the doors of its new £10m building on Monday.
Campsmount Technology College was wrecked in a fire in December 2009.
A "topping-out" ceremony took place in October 2011. The rebuilding after the fire had been in doubt when the Building Schools for the Future (BSF) programme was cut.
Teachers were in the building on Monday, days before pupils return to start lessons in the classrooms.
The Department for Education (DfE) gave the go-ahead for the new school in September 2010, despite the government axing the BSF.
The rebuilding of the college began in February 2011 on the same site as the original building, at Norton in Doncaster.
Students had been working from temporary classrooms since the fire, which was caused by an electrical fault.
Head teacher Andy Sprakes said he was ready to welcome the students into the new building.
He said: "Students will come into a real school, for some of them [attending the college] the first time they actually experienced that.
"So it will be very emotional as well, and we're just really looking forward to it."